So apparently this game was released in arcades first in 1985.  I remember first playing it on Nintendo and it was one of the first games I had besides Mario Brothers and Duck Hunt.  Its a game to see how high of a score a player can get by accurately throwing papers in yards or mailboxes.  It had 3 difficulty levels and each stage of the games was represented by the days of the week.
Each day you had different obstacles standing in your way, from dogs to mini tornados and of course traffic.  You would get a higher score for landing the paper in the mailboxes and customers would "cancel" their subscriptions if you broke a window or did not deliver their paper.  That would cause you to have less houses to deliver to resulting in a low score.  If you received a top score you could put your initials up.  That was cool for when you played in the arcade and everyone knew who held the high score on that particular machine.  It sucked when someone had a high score on your own Nintendo though.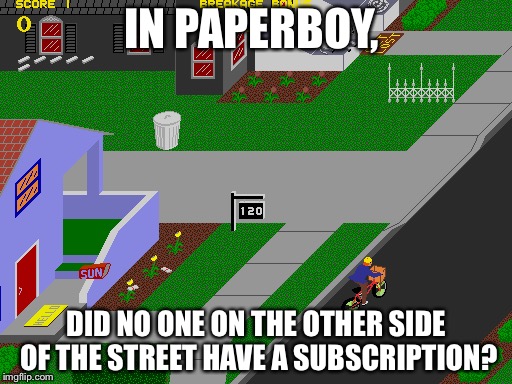 Paperboy was later released in 2009 for iOs users and I do believe that it is a game that could be updated today just for the fun factor.  Well….maybe because people really do not read the paper anymore.  If you want to see how this game was played look below at Militia Gaming League's Retro Gaming Wednesday.  Every Wednesday they stream the best throwback games.
Share, Comment and Like and let me know if you remember this game.