KiinGxDooMs is known in the NBA 2K community as one of the top competitors in Pro-Am.  He has been in the YouTube and 2K scene for years.  I have balled with him a few times in past 2K games and he is a baller and can get "green beans" from anywhere.  His team is one of the top teams doing it.  If you do not know about DooMs (I do not see why) then get to know him a little more below.  Also, you want to be featured click here and fill out the form.
KiiNGxDooMs
"I've been gaming since I was 2. My first game that got me hooked was Tekken and the rest was history. My Name is Davontanez Davis, I'm 25 years old and I turn 26 June 1st. I'm originally from Wichita Kansas but relocated to Orlando FL and now for 6 years been living in Fort Worth Tx. I use to hoop competitively in middle school for AU but decided to play football going into high school. As of now, I just play pick ups and shoot around at 24 fitness."
Name (PSN or Gamertag)
cKz KiiNG DooMs
KiiNGxDooMs on all social media
What system(s) do you play NBA 2k on?
Xbox One and PS4
How long have you played the NBA 2k franchise? What was the first NBA 2k that you played?
Been playing since 99 and that was the first NBA 2K
What mode(s) do you play in NBA 2k?
Proam
Do you play Pro-am?
Yes
If you answered yes do you play for a team(s) and state the name of your team(s)
cKz

What position is your My Player? Also, what is your My Player archetype, weight, height and overall? (you may list multiple)
Small Forward

Pure Sharp

180lbs

6'8

95 overall 



Did you participate in the 2k Combine? How was your overall experience?
 Yes and it was brand new experience. It was definitely more pressure on players to perform well each and every game.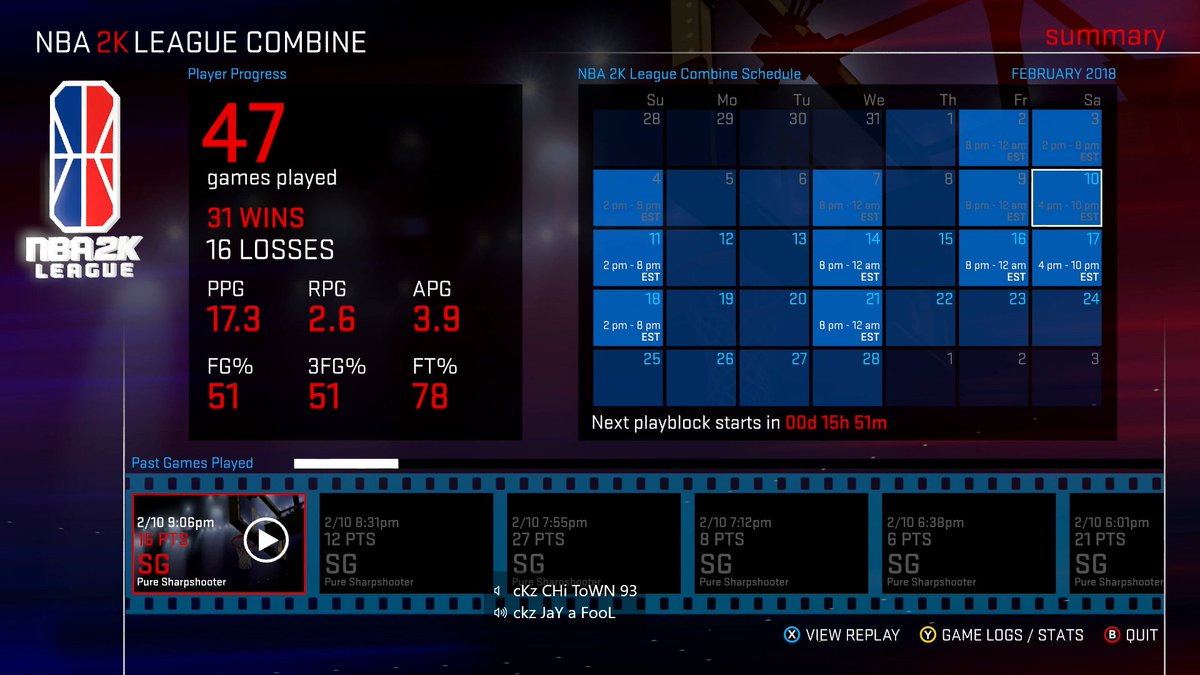 Do you plan on participating in the NBA 2k League next season?
Yes
Best experience in Pro-Am. Most memorable game.
 "June 10th, 2017. 2nd round of 2Ktournamentz vs Throwdown. The whole community is picking Throwdown to win and betting. This was around the same time Money Matches was getting started and the community could bet on 2K Pro am matches. It was a crazy game, Jay a Fool came out with a 6'1 slasher and hooped and made the viewers mad lol. They couldn't believe Jay was using that build. The Cavs Manager tweeted about the game and all of cKz hooped and came out with the W."