This week's #TBT game might be one of my favorite games of all time.  I won't go into detail about the storyline and features, but I just know this game was fun!  Even though Grand Theft Auto V is back in San Andreas I do not believe it has the same feel this game had back in 2004.
I was about 20 years old when this game was released and I was taking classes at the local Jr. College, but was set to transfer to Clark Atlanta University that January.  I did not get the game release date, back then I wasn't chasing release dates for some reason I just would see it in the store and buy it.  So I would say I got the game in like November.   My mom and dad had recently divorced and I was staying with her until I left for school.  My little cousins Romeo, Craig (Jr.)  and Robert were at the house because for some reason it decided to snow for a week straight in Virginia.  I was like "Well we stranded, lets beat Grand Theft Auto"  We had so much fun over the next couple of days taking turns beating missions, and of course trying to find gun cheats.  My cousin Robert, who played Vice City had a notebook of cheats from the game so he decided to try the ones from the guns.  Well hold up, he did remember like two of the gun cheats by heart, because I still do, I can't tell you because I need the controller in my hand to do it.
The story of San Andreas was set in 1992 and Los Santos is like a fictional Los Angeles, and many of us know that LA in 1992 is when the riots happen, due to the corruption in the LAPD and police brutality against people of color (not much has changed).  Nevertheless, it was a story many of us got into especially if you were a fan of the movies Boyz in the Hood, South Central, Menace to Society and even Friday.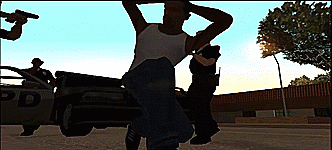 The main character was Carl Johnson aka CJ who was a former gangbanger returning to Los Santos after being in Liberty City learning that his mom was murdered in a drive-by shooting.  The family is mad that CJ had left and that their gang, Grove Street, had declined and it was time to build up the gang again.  They would take on gangs like the Ballas, Vagos, and Varrios in order to gain control of the city, while dodging corrupted cops.
I could go on and on about this game and its side missions, features, great music and cast, but I ask you to look below at the Twitch stream from Militia Gaming League to get an idea of how fun this game was to play.  I really wish that GTA V had continued the story even though CJ was no longer with us #RIP.