It's Fridayyyyyyyyyyy the 13th and guess who's playing Jason.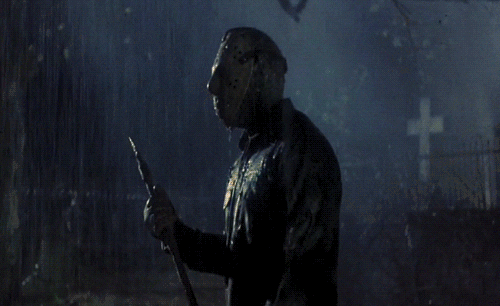 This week's Feature Friday is from no other than Optima_sxTGDi, I will say his feature was so enjoyable to do he is a real character and very entertaining.  Little background I was suppose to do his feature awhile ago, but he changed his name and I couldn't find him!!  Please Please read his feature below you won't regret it and will have a craving for green bean casserole.  Well, check out his feature below from the perspective of his My Player!

"i'll always call it "park"

Social Media 
---
TWITCH
YOUTUBE
TWITTER
---
What system(s) do you play NBA 2k on?
PS4
How long have you played the NBA 2k franchise? What was the first NBA 2k that you played?
 I was born at Sunset Beach in NBA 2K16 after EA's NCAA Football died and the guy holding the controller went looking for another game to help him decompress and cope with PTSD.
What mode(s) do you play in NBA 2k?
park/playground (bc it's the best YouTube content by far and i'm growing a LIT channel), proam (of course), and career during those times when the guy holding the controller needs to pause (like when he has his kids)
Do you play Pro-am?
indeed
If you answered yes do you play for a team(s) and state the name of your team(s)
i was lucky enough to be drafted #1 overall by @xTriple3Threatx into the @SL2KProAm League for season 2, the current season.
What position is your My Player? Also, what is your My Player archetype, weight, height and overall? (you may list multiple)
ok, so u want the recipe for #GLg's famous

green bean casserole,

huh? 
 no problem; my natural position is as SG, i'm 6'8", pretty narrow in the britches – and currently a 93 OVR.  that said, i think what sparked my popularity w/ some of the SL2K teams is that i went into the open gyms and did what i did … the entire time i was an 85 OVR * * *
Did you participate in the 2k Combine? How was your overall experience?
too many things outside of 2k required the guy holding the controller to put focus elsewhere at that time. he's not stopping me from getting out there in 2K19 tho.  support system in place – all that
Do you plan on participating in the NBA 2k League next season?
indeed
Best experience in Pro-Am. Most memorable game
aside from being ur feature 

on friday the 13th

 (fitting bc i'm a nightmare to cover on hardwood), or being drafted #1 overall into SL2K ProAm League my most memorable game is not the one where i hit 23 3's in a game (not against ai), or my 1st game winner vs. an Elite 3+ team
ok really – a week ago today, right as #SL2KAllStar wknd kicked off (roughly 

4:20pm

) – 99 OVR @247PIFF came into the chat party i was in and jumped into my shareplay; he started watching the gameplay from my perspective.  for those that havent seen me shoot – ur missing out.  it's fast.  it's faster than whatever jumpshot ur favorite YouTuber told u is the fastest AND it's wet. 
anyway, i missed the 1st shot and as most people do when they see me shoot and i miss, i heard mr. #MVPIFF kinda scoff (let's be honest, dude isn't known for keeping his thoughts a secret) and my jumper looks like a catapult so the scoff came. i couldn't seem him but i felt like he was abt to stop paying attention in that moment as he just started talking to someone else in the party.  then … as it always does … the green light came on – and it never went off. at the same time *ding* sniff sniff – the green bean casserole was ready to be served – serve it i did.  by the final buzzer that 99 OVERALL, @247PIFF, was calling the greens out for me. after the game he stayed on and chatted w/ me a bit and accepted my friend request. felt like meeting a celebrity and the celebrity goes "ok, ur cool, let's kick it"
i'm lucky enough to be collaborating w/ @HazelFierce for a video soon, too, so that MIGHT rival that best moment to date – aha! #GLg #dathreatisREAL
---