It's Friday and you know what time it is….time for another great Feature!  This week's feature is from a serious comp player xxInkMySwaggxx if you looking for a great big man he is the one repping the 305.  He has a love for basketball, but pursued football growing up, but uses playing competitively on NBA 2K as his outlet.  Check out his feature below and follow him on all his social media.  He is super talented at making videos, banners and headers follow his page if you are looking some work and check out his edits in this feature.
xxINKMYSWAGGxx
"I am 28 years old and from the 305 repping the Dade strong lol I am a die hard Miami fan and that will always be home but I also lived in Detroit many years and grew up a lot during my time there. I played basketball for a little bit while growing up but eventually I only could only play ball for fun in the neighborhood because my father made me focus on Football because I played it from 2nd grade through high school. Being a gamer it was nice to really get into 2k because I didn't really hoop a lot anymore so I got my basketball fix in."
SOCIAL MEDIA
---

Twitter:   @InkMySwagg
YouTube:    InkMySwagg Ent
Instagram:   @inkmyswagg
Twitch:    Twitch.tv/inkmyswagg
---
What system(s) do you play NBA 2k on?
Xbox
How long have you played the NBA 2k franchise? What was the first NBA 2k that you played?
I have been playing 2k since the release of the competitive crew mode back in 2k10
What mode(s) do you play in NBA 2k?
Pro Am competitively

Do you play Pro-am?
Yes

If you answered yes do you play for a team(s) and state the name of your team(s)
I play for the team Always Mistaken that is competing in the SL2K pro am comp league. Last season we won the championship and I won MVP for the season and season 2 is about to kick off and we're looking to repeat.
What position is your My Player? Also, what is your My Player archetype, weight, height and overall? (you may list multiple)
I play power foraward using a few different builds I have over 24 players but the main players I do comp pro am with are all 6ft11 bigs and I rotate between a shot creating finisher, a rebounding finisher, and a two way rebounder.
Did you participate in the 2k Combine? How was your overall experience?
I did and I finished with 10 triple doubles and averaged 24 12 and 5 in the 50 games I played.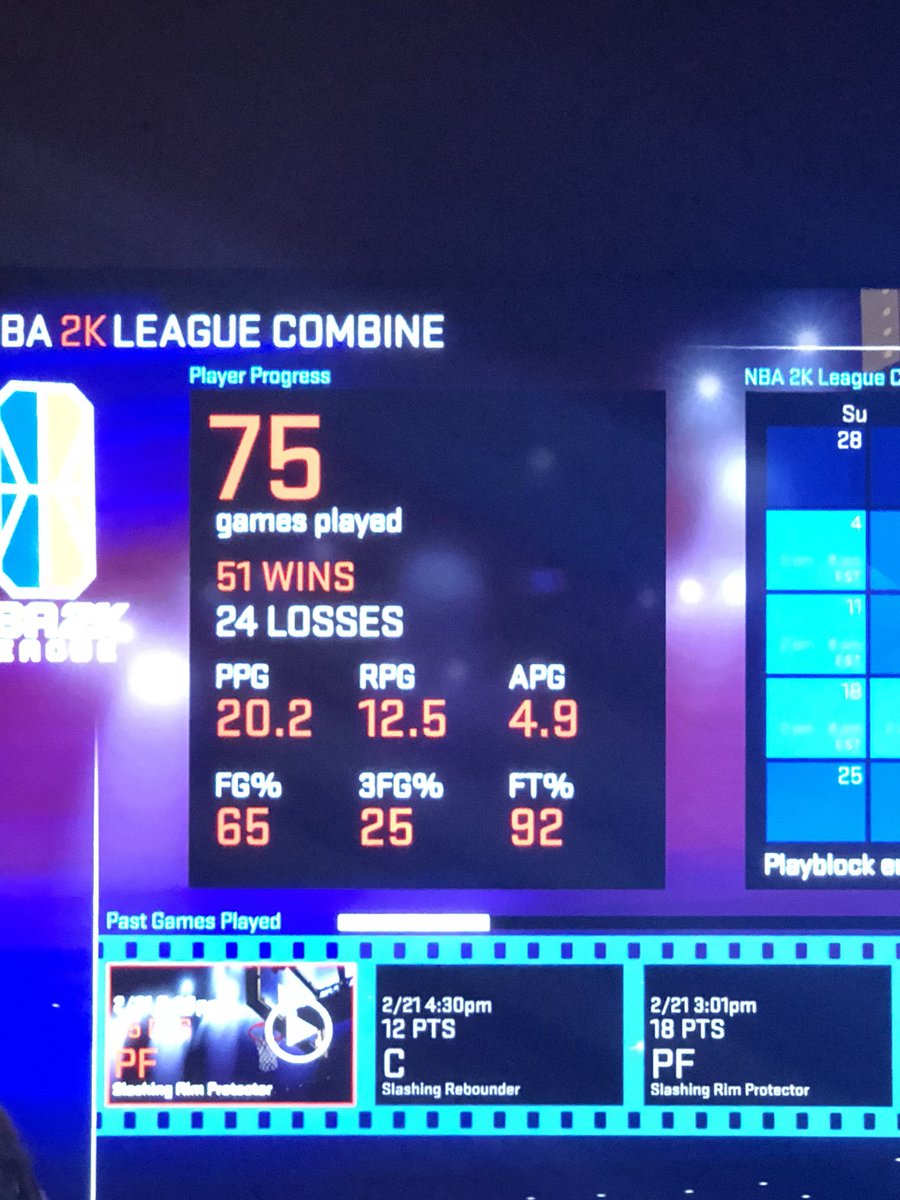 Do you plan on participating in the NBA 2k League next season?
Yes

Best experience in Pro-Am. Most memorable game.
Best experience was playing my first year in a pro am comp league and seeing how well I stacked against other competitive players. I wasn't expecting to be a league mvp or help my team win a championship it was an awesome experience and I remember us taking down a top 100 team to seal our team record for the season edging out another team for us to win the chip and dropping 44 and 12 that game.

---